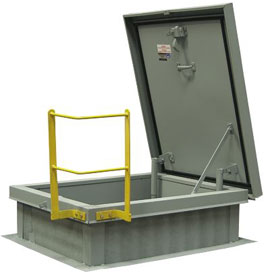 Save-A-Life Ladder Extension
Access in and out of roof hatches can be stressful and pose a real threat of injury. The S.A.L. Ladder Extension mounts easily onto all metal roof hatches and can be placed on either the right or left side of the hatch opening. All units are constructed with 1 1/2" x 1/4" steel vertical rails and 1/2" round horizontal rungs. Ladder extensions have a bright yellow epoxy finish.
Model No. Ladder
Overall Height
Horizontal Rails
Weight
SAL-1
21"
20"
11 lbs
Ladders include two (2) interior 2 1/4" x 5 1/2" reinforcing plates and four (4) 3/8" x 1" zinc plated hex bolts with washers and lock nuts.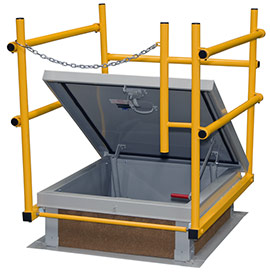 Safety Guard Rail
Access in and out of roof hatches can be stressful and pose a real threat of injury. The Lane-Aire Safety Guard Rail mounts easily to all roof hatches after the roof hatch has been installed. Because of a unique clamping feature, no holes are required through the roof hatch or reoofing system, thus maintaining the roofing system warranty. Safety Guard Rails meet the intent of OSHA standard 29 CFR 1910.23 and 27 that requires compliance for safe ingress and egress through hatch openings in the roof.
Model No.
Roof Hatch Opening
Model No.
Roof Hatch Opening
SGR-3232
24" x 24"
SGR-3238
24" x 30"
SGR-3244
24" x 36"
SGR-3838
30" x 30"
SGR-3844
30" x 36"
SGR-3862
30" x 54"
SGR-38104
30" x 96"
SGR-4444
36" x 36"
SGR-4456
36" x 48"
SGR-44104
36" x 96"
SGR-5656
48" x 48"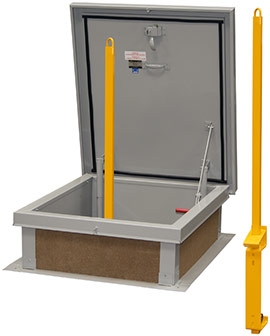 Safety Post
The SP-1 Safety Post provides a convenient and safe method of climbing off and onto fixed access ladders. Available in steel with yellow powder coat and meets ANSI A 14.3 and OSHA requirements.
Safety Posts offer support for climbing on and off a fixed access ladder while maintaining a standing position.
Easy To Use
When reaching the top of the ladder, extending the Safety Post is easy to lift with just one hand, because of the built-in counter spring. Now you can step on or off the ladder in a safe standing position while gripping the post. A latch maintains the post at any height and is easily released for retracting the post. Safety features include an easy-to-grip square post and a ring for fall arrest attachment at the top.
Easy To Install
Safety Posts come pre-assembled and attaches directly to the top two rungs (square or round) with just two "U" bolts.